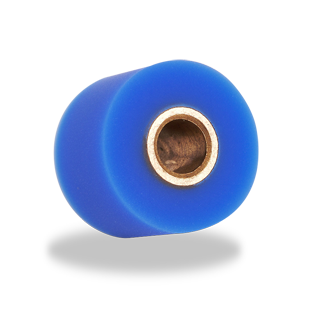 Pricing is contingent upon volume.
Contact us for a free quote!
Urethane Idler Rollers
Our standard urethane idler rollers are manufactured using oil impregnated 841 sintered bronze sleeve bearings. They are designed for light duty applications with moderate to low speeds. The bearing bores are sized to fit undersize (nominal minus) precision ground shafting as well as some oversize (nominal plus) precision ground shafting. We bond the urethane directly to the sintered bronze which provides for a fairly low idler roller design. The urethane diameters are ground to tolerance of +/- .003″ and maximum concentricity, relative to the bore, of .002″. Please note: The –ZZ portion of the part number below refers to the hardness (durometer). For 55A use -55 and for 70A use -70.
PART NUM
DIM A
DIA
DIM B
WD
DIM C
BORE
DIM D
CORE DIA
402-ZZ
3/8
3/8
1/8
1/4
404-ZZ
1/2
1/2
1/8
5/16
406-ZZ
1/2
1/2
3/16
5/16
408-ZZ
5/8
5/8
3/16
5/16
410-ZZ
5/8
5/8
1/4
3/8
412-ZZ
3/4
1/2
3/16
3/8
415-ZZ
3/4
1/2
1/4
7/16
418-ZZ
1
3/4
1/4
1/2
419-ZZ
1
1
1/4
1/2
420-ZZ
1
1/2
5/16
1/2
421-ZZ
1
3/4
5/16
1/2
422-ZZ
1
1
5/16
1/2