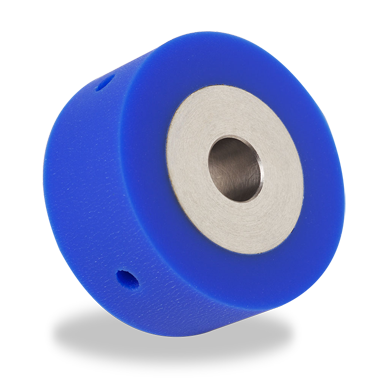 Pricing is contingent upon volume.
Contact us for a free quote!
Hubless Urethane Rollers
Our standard hubless urethane drive rollers are manufactured using a precision 303 stainless steel core. They are typically used in applications where a hub drive roller is too wide. The bores are sized to fit undersize (nominal minus) precision ground shafting. The threaded holes are located on the centerline of the roller surface and go through the urethane coating. Depending on part number, these drive rollers are supplied with either one or two stainless steel set screws so they can be securely fastened to a shaft. The urethane diameters are ground to tolerance of +/- .003″ and maximum concentricity, relative to the bore, of .001″. Please note: The –ZZ portion of the part number below refers to the hardness (durometer). For 55A use -55 and for 70A use -70.
PART NUM
DIM A
DIA
DIM B
WD
DIM C
BORE
DIM D
CORE DIA
SET
SCREW
502-ZZ
1/2
1/4
3/16
3/8
6-32 (1)
504-ZZ
1/2
1/2
3/16
3/8
6-32 (1)
506-ZZ
1/2
3/8
1/4
3/8
6-32 (1)
507-ZZ
1/2
1/2
1/4
3/8
6-32 (1)
509-ZZ
5/8
3/8
3/16
7/16
6-32 (1)
510-ZZ
5/8
1/2
3/16
7/16
6-32 (1)
511-ZZ
5/8
5/8
3/16
7/16
6-32 (2)
513-ZZ
5/8
3/8
1/4
7/16
6-32 (2)
514-ZZ
5/8
1/2
1/4
7/16
6-32 (2)
515-ZZ
5/8
5/8
1/4
7/16
6-32 (2)
517-ZZ
3/4
1/2
1/4
7/16
6-32 (2)
518-ZZ
3/4
5/8
1/4
7/16
6-32 (2)
519-ZZ
3/4
3/4
1/4
7/16
6-32 (2)
602-ZZ
1
1/2
1/4
3/4
8-32 (2)
604-ZZ
1-1/4
3/4
5/16
3/4
8-32 (2)
606-ZZ
1-5/8
3/4
3/8
1
10-32 (2)
608-ZZ
2
3/4
3/8
1-1/2
10-32 (2)
610-ZZ
2-1/2
1
1/2
1-1/2
1/4-28 (2)