CUSTOM POLYURETHANE ROLLERS
Custom polyurethane rollers are Polydrive's specialty. We have manufactured thousands of different designs since 1981 for customers all over the world. Our precision rollers are manufactured using the highest quality castable polyurethanes available. There are many stages involved in the manufacturing process and we take great care to ensure the final product meets or exceeds our customers' specifications and expectations. Following is a brief summary of some of the stages involved: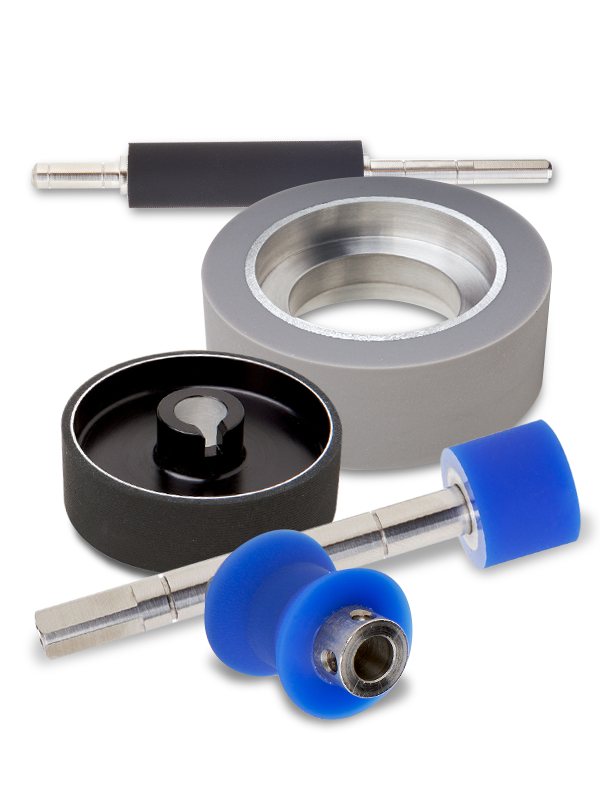 Pricing is contingent upon volume.
Contact us for a free quote!
Core Design and Manufacturing:
The majority of our customers' roller designs incorporate a metal core. For most of these rollers, especially for those produced in quantity, the final precision of the overall roller is dependent upon the specification of the core. For this reason, we spend time reviewing designs with our customers to ensure the final product meets the requirements of their specific application and budgetary goals. Our cores are manufactured using a combination of machining, grinding, and honing operations. We utilize many different machining technologies to provide economical roller cores in a wide range of size, tolerance requirement, and order quantity. Bores or shaft bearing journals tend to be the most tightly toleranced feature of any roller core. We routinely manufacture rollers whose bores have a total inside diameter tolerance of .0005" and it is not uncommon for our customers to specify a total tolerance of .0002". We also routinely manufacture shafted rollers where the bearing journal diameters are precision ground to .0002" total tolerance.
Core Preparation:
Core preparation is the crucial first step in the molding process. Our focus here is to create a strong and consistent bond of the urethane coating to the metal core. The quality of this bond is critical to roller performance and longevity.
Molding:
Many new customers, who initially have a concern regarding "tooling costs" associated with custom rollers, are pleased to learn that 95% of the rollers we manufacture are molded using standardized molds. Over the years, Polydrive has invested in a large inventory of standardized molds which can be configured to cast a wide range of roller sizes and configurations. Another benefit of these standardized molds is they greatly reduce the lead time for both prototype and first production runs. Polydrive's molding processes have been designed to give our production team precise control. This precise control results in consistent and repeatable results from our time tested formulations.
Machining of Urethane:
Grinding and turning operations are used to transform "as molded" rollers into the precision rollers specified by our customers. Control of outside diameter and concentricity tends to be the major focus at this stage. In large production runs, diameters are regularly controlled to +/-.003" and concentricities are controlled to .002". It is not uncommon for our customers to require the tightening of these tolerances to +/- .001" on the OD and .001" on the concentricity. We also employ secondary machining operations which allow us to groove, chamfer, radius, & tap as required.